Architecture¶
---
Overview¶
CloudAEye SaaS (Software-as-a-Service) delivers AI solution for distributed cloud application management. This topic describes the high-level architecture.
Architecture¶
There are three major components in this architecture:
User application envrionment
Observability platform with centralized logs and metrics services
AI/ML models that delivers intelligent automation to simplify user's cloud operations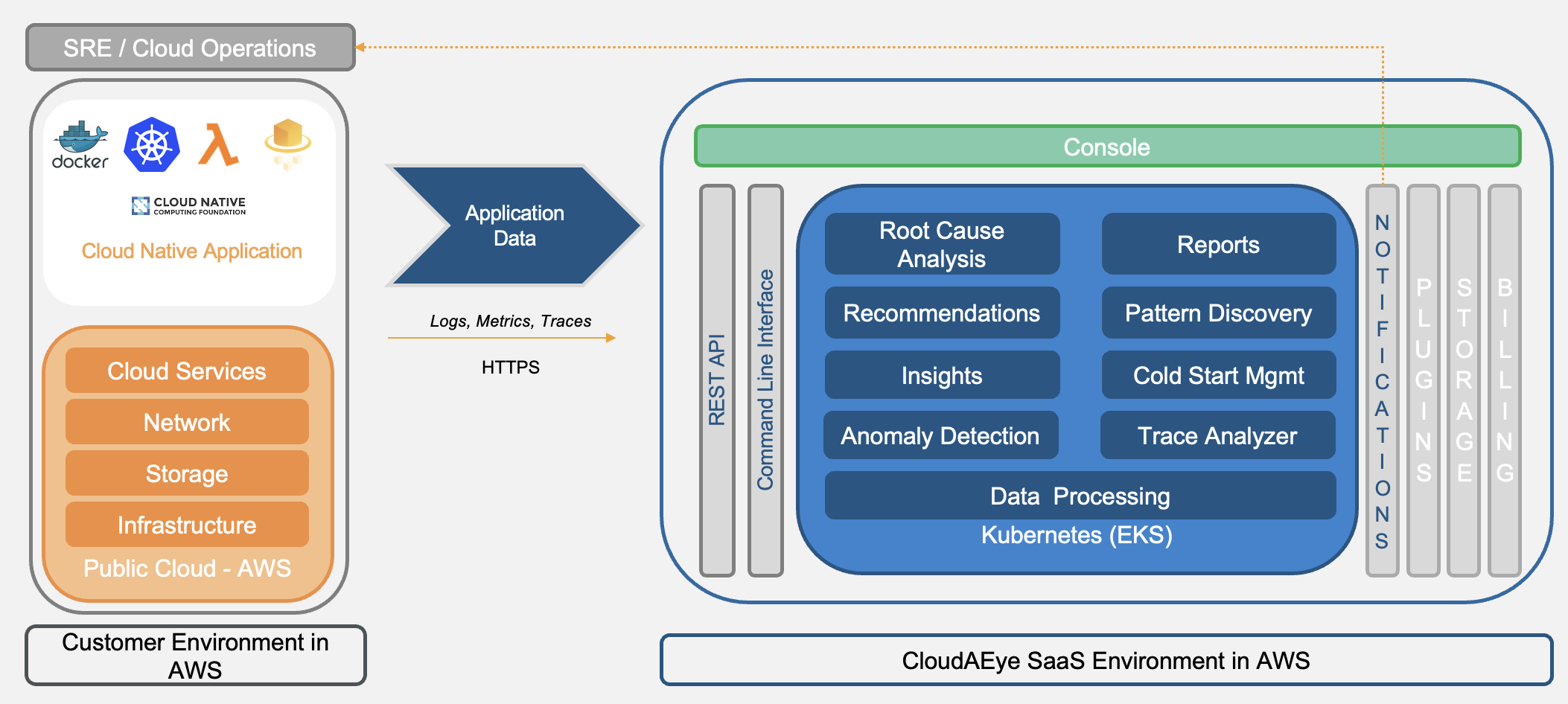 Key Capabilities¶
CloudAEye SaaS runs on public cloud (example, AWS). It has the following capabilities:
Logs service based on popular open-source technologies such as Elasticsearch, Logstash and Kibana (now OpenSearch )
AI powered logs analyzer service to analyze all logs real-time
Metrics service based on popular open-source technologies such as Prometheus, Grafana
AI powered metrics analyzer service to analyze all metrics real-time
AI powered root-cause analysis models that delivers root-cause for a production incident
Notification service to deliver email and sms alerts out-of-the-box
Console, Command Line Interface (CLI) and REST API to deliver sophisticated and complete management
User may be running distributed cloud native applications on public cloud in their own VPC (Virtual Private Cloud). CloudAEye SaaS is designed to deliver intelligent observability solution for user applications.
How It Works?¶
Logs and metrics from user applications are instrumented to stream to CloudAEye SaaS. The services are designed to deliver massive scalability. Each logs and metrics service provides a scalable setup with dedicated instance(s) of Elasticsearch/Logstash/Kibana (now OpenSearch ) or Prometheus/Grafana. This ensures data isolation and no single point of failures. User is given access to dashboards (Kibana, Grafana) for viewing and management of application data.
AI/ML models are desgiend to enhance capabilities of your SRE and operations teams
Data pipeline provides continuous access to logs and metrics to AI/ML models for analysis. Thus, the AI powered services detects and automatically surfaces anomalous services. Out-of-the-box notification delivers email and SMS based alerts when an incident in production is detected. The AI models also provides all contextual informaton and root-cause analystis to reduce MTTR (mean time to repair).